Project Overview
Updated: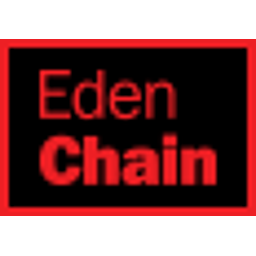 Target / Supply Amount
| | | |
| --- | --- | --- |
| | 24,000,000 | USD |
| | 2,500,000,000 | EDN |
Description
EdenChain is a blockchain-based technology that allows corporations, public authorities and individuals to use blockchain technology and coins. EdenChain uses Parallel Execution technology to execute fast smart contracts, and because of its per-transaction charging policy, customers can use the blockchain technology at a low price. It can be applied in various fields such as IoT, gaming, literature, education, point marketing, car sharing, etc.
A smart contract is a contract between companies or individuals that is created with a program, and has an 'automated transaction protocol' that is automatically executed without human intervention when specific conditions are met. With a smart contract, the content of a prearranged agreement between parties ensures its transparency and is accurately executed automatically.
Team Members
Hokyun Kim
:
Blockchain Developer
Brian Park
:
Blockchain Developer
David Kim
:
Business Development
Jolly Yu
:
Design Advisor
Ted Kim
:
Financial Advisor
Chris Jung
:
Financial Advisor
IckChan Joo, Ph.D.
:
Advisor
Yoonsang Cho, Lawyer
:
Legal Advisor